The Council, together with the Friends of Scotchmans Creek and Valley Reserve, has done considerable work to restore and maintain this area, with weeding, planting and other maintenance work continuing to keep the Reserve in good health for the community to enjoy.
The unique urban bushland environment of Valley Reserve is home to more than 55 native species, including 32 significant plant species. This site is also considered to be of Regional Zoological Significance.
Significant fauna species likely to be found here include the Grey-headed Flying-Fox, Southern Bell Frog, Eastern Snake-necked Tortoise, Peregrine Falcon, Crested Shrike-tit, Gang-Gang Cockatoo and the Striped Marsh Frog.
The vegetation is largely made up of Messmate, Narrow-leaf Peppermint, Silver-leaf Stringybark and Swamp Gum, with a Grassy Forest understorey. In the wetter areas of Valley Reserve, Swamp Paperbark grows in the Riparian vegetation community, with Swampy Scrub complex in the understorey.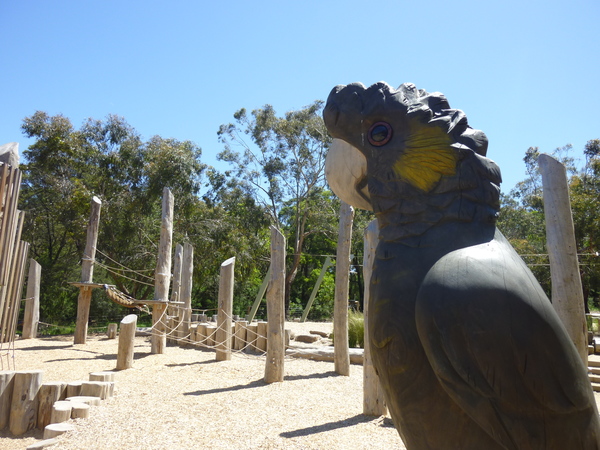 Valley Reserve's new and award-winning Adventure Playspace © City of Monash
This ClimateWatch trail was created as part of Biodiversity Monitoring in Melbourne's East by the Eastern Alliance for Greenhouse Action (EAGA). The project won the Government category for the 2016 Victorian Premier's Sustainability Awards, as well as the Local Government category in the 2016 United Nations Association of Australia World Environment Day Awards.
How to get involved
This is a public ClimateWatch trail that you can walk whenever you like. If your school is interested in visiting the site through the City of Monash, please contact This email address is being protected from spambots. You need JavaScript enabled to view it..
This ClimateWatch trail was developed with: