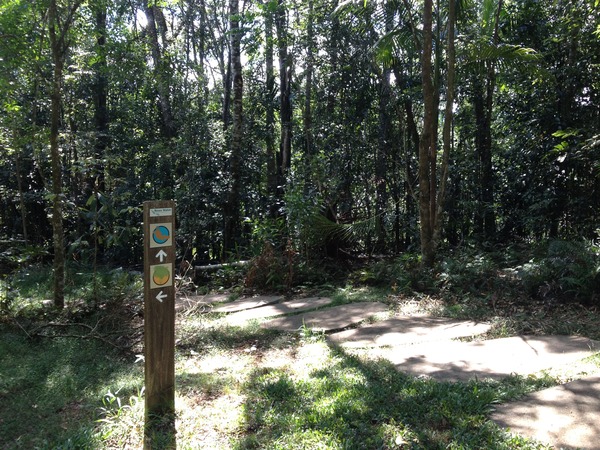 The start of Playtpus Walk, part of the Rocky Creek Dam ClimateWatch trail.
Dorroughby Environmental Education Centre (EEC) is a Department of Education facility that specialises in environmental education and field work in various location in the Northern Rivers. Rocky Creek Dam is situated less than 5 km from the Centre and is a popular location for field trips for students K-12. It also assists schools in sustainability and environmental curriculum planning and in the development of school environmental management plans.
Rous Water is the regional water authority for the Council areas of Lismore, Ballina, Byron and Richmond Valley in Northern NSW. They provide water to over 100,000 people, mainly from Rocky Creek Dam. The water catchment of the Dam is located in the land of the Widjabul people, who are part of the Bundjalung Nation. Rocky Creek Dam is in the upper reaches of the Richmond Catchment. Most of the catchment area is warm temperate rainforest of Nightcap National Park (World Heritage listed) and Whian Whian State Conservation Area, a significant local remnant known as the Big Scrub.
The Silky Oaks at Rocky Creek Dam
How to get involved
This ClimateWatch trail is open to the public and Dorroughby EEC also runs school visits. For more information, please contact the trail coordinator This email address is being protected from spambots. You need JavaScript enabled to view it..